How to Choose the Best Cloud Service Provider for your Startup?
Today's world is laden with advancements in technologies like Artificial Intelligence, Machine Learning, Deep Learning, Augmented Reality, Virtual Reality, the Internet of Things, DevOps, etc. Almost everything can be automated, customized, and optimized. However, data storage has always been and will be a constant requirement regardless of what technology we use. Cloud computing is today's go-to option for these services and much more. Cloud computing has eliminated the whole "Hard drive storage and Traditional Server" drama and provided a seamless experience.
What is Cloud Computing?
Cloud computing refers to the delivery of computing resources like servers, storage, database, software, analytics, networking, etc. via the internet. It adopts a pay-as-you-go approach, i.e., you need not pay for idle services. Cloud computing is elastic and scalable which is one of the reasons for its success.
Cloud Computing and Startups
The big giant companies have upgraded their business tactics and financial management by upgrading to cloud solutions. This smart strategy has benefitted the organizations to a great extent, mainly contributing to the revenue increase. Startup companies often start with a small budget and it is always better to look for optimal solutions. Investing in the right resources plays a huge role in the growth of any company. In the case of an amateur, it is always good to have an amazing start.
Why Startups Need Cloud Computing?
Startups at an initial stage tend to ignore such calculative practices and begin to invest and build their servers and data centres. This often results in financial losses and a waste of resources. Even if they build the infrastructure properly, the maintenance and troubleshooting take a toll on the startup's resources. Investing in cloud solutions reduces the need for physical spaces to build, and maintain data centres and ensures better monitoring and troubleshooting.
Leveraging cloud solutions for data storage ensures high availability. In case of a natural disaster or a system failure, the data can be easily retrieved as cloud data centres retain redundant copies of data across their availability zones in different regions. This establishes the company's loyalty among the customers.
Optimizing the infrastructure via cloud computing would give more time to focus on the core competencies of the company. This would eventually result in faster product launches.
Switching to cloud computing solutions plays an important role in a smooth online presence in this virtual workspace era. It also improves collaborative working atmospheres.
When the company needs to switch up its business practices, cloud services offer scalability which makes the process a cakewalk.
When an idea fails, cloud solutions help the company to move on fast. They need not stick to an underutilized architecture. This also saves the rebuilding costs for the company.
Implementing cloud solutions helps the organization to automate practices like management, testing, development, deployment, etc., to speed up the SDLC (Software Development Life Cycle).
Choosing the Right Cloud Service Provider (CSP)
The question: "How to choose the best cloud service provider for your startup?" doesn't have a straightforward answer. The requirements and expectations vary from company to company. The following parameters are to be considered when you are choosing a cloud solution for your startup.
Security: Before investing in a Cloud service, it is highly essential to understand the security policies and goals of the CSP. This helps in choosing a cloud service that aligns with the company's goals and practices. Be sure to carry out some research on the CSP's previous data breaches and their coping mechanisms.
Compliance: Ensure that you choose a cloud architecture and model which aligns with the compliance standards of your company. Depending on the industry, you can choose between a public, private, or hybrid cloud. Always opt for a private cloud in case of leveraging sensitive information. In cases where your organization's business extends beyond the country, make sure that the Cloud Service Provider which you choose follows the laws and regulations of those regions. General Data Protection Regulation (GDPR) is a European compliance standard for the protection of the personal data of EU residents.  In the case of the healthcare industry, the CSP should follow the HIPAA protocols (Health Insurance Portability and Accountability Act of 1996). Make sure that you are aware of the aspects which will be supported by the Cloud Service Provider.
Architecture Incorporation: Always choose a cloud architecture that can be easily implemented in your workflows in the present and future. Choosing a cloud service that is related to the existing services used by the organization reduces the hassle.
For example, if the organization uses services extensively from Google, then it's better to opt for Google cloud as a solution, thus making the synchronization easier.
Information Retrieval: Choosing a cloud storage solution based on how often you would need your data is advisable. Understanding the nuanced differences between storage options for frequent retrieval (hot storage) and infrequent retrieval (cool storage), helps you zero in on the right cloud solution.
Scalability: Choose a Cloud Service Provider which facilitates both scaling up and scaling down of your business whenever needed, without much hassle. This minimizes the need to alter the core infrastructure of the company, and helps us to be organized. Choosing a Cloud Service Provider with high scalability in the initial stage itself eliminates the need to switch to a different Cloud Service Provider later on.
Proper Legal Agreements: It is extremely important to establish a well-devised contractual relationship between the customer and the provider, to avoid mishaps. Find a Cloud Service Provider who is trustworthy. Ensure that you have a legal agreement for backup in case of a mishap.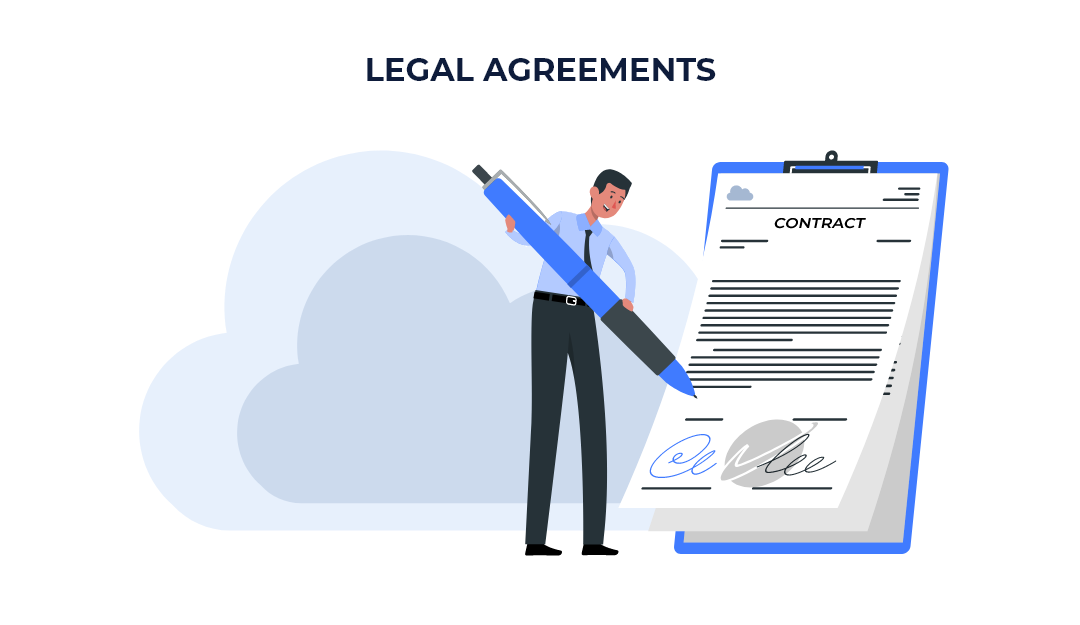 Support and Services: Check if the services provided by the CSP suit your business needs in terms of time, capacity, availability, and responsiveness. In case of an emergency, you must be able to get support from the provider without much hassle. So, ensure that the support system is aligned with your company's needs.
Costs: Although cost shouldn't be the only factor in choosing a service, it is also a strong aspect which we need to consider. Go through the pricing plans of various CSPs and do a comparative study of the same. Then, choose the service which fits your company's budget and at the same time, caters to your needs efficiently.
CONCLUSION
Cloud services and solutions can help in the optimization of your startup's resources and reduce the workload. Even if it feels great to build your infrastructure, it is wise to choose a better option when there are people who are dedicated to the same. Investing only in the tools which are needed reduces chaos and confusion. This boosts the company's success rate as in the end, people will praise your product and services, more than the infrastructure. Hope this blog gave you an idea of how to choose the best cloud solutions provider for your startups.