Which non-tech-related industries would you bring UX into?
If we merely go by the definition then "User experience (UX) is how a user interacts with and experiences a product, system or service. It includes a person's perception of the utility, ease of use, and efficiency." Though it's pretty clear from this definition that UX is all about perceiving a product. But if we get zeroed to what impact it has on a product's popularity, growth, business aspects, and overall progress, UX plays a massive role that we often fail to give it credit for.
Now, if you ask a tech-savvy person about what keeps them glued to a website and what disappoints them about it, the answer would be a different person to person. But if you shortlist the likes, then I'm sure you will get answers like easy navigation, nice look and feel, proper information hierarchy, and could be more. Similarly, for dislikes, you might get answers like confusing UI, slow page loading speed, haphazard navigation, and more and more.
Again, if you ask the same questions, say, to an environmentalist or a physician, or a politician, do you think they would have the same answers as above? I think not. Because their main concern would be, "do we have enough online work-related platforms to comment on this?" This is where we can witness the lack of UX solutions in non-technical areas and oh boy, what a huge difference it could bring to these sectors if adopted as a full-fledged work setup.
With this, let's throw some light upon UX for non-tech related industries. But before that let's understand the prerequisites for having UX.
Questions that need to be answered
Before introducing UX design in any non-tech industry, we need to have a proper answer to the following questions.
Is the industry aware of the UX Design concept?
How familiar is the industry with UX Design?
What method does this industry follow for software development?
What are the steps involved in their UX Design process?
Factors that influence their decisions for UX Design?
Once we find answers to these questions, our next step is to explain to them the benefits of an impactful UX Design. How a well thought UX Design can improve a company's progress in the long term.
Pros of having UX Design in any industry
Great consumer satisfaction: Having a UX design for your product is a result of user research, prototyping, information architecture, testing, and wireframing, to name some. And this part is done by a professional UX designer. But if a designer creates something from their perspective rather than considering what a consumer needs, and how relevant a design is for them, then it would be just a design that doesn't resonate with the actual user. Hence, it is important to know what the end user is looking for in your design and therefore achieve great customer satisfaction.
Saves development cost: There is often a misconception that UX design increases both the cost and time of development for any software. But in reality, it's just the opposite. A good UX design lessens the overall development cost and time by making things straightforward in terms of how a customer would be perceiving a product. Hence, implementing UX design at the time of development is the best approach.
Exponential customer retention: If we have to explain this with a very basic example, many households have one defined grocery store, general physician, hair salon, car mechanic etc., that they go to. The reason is, they are satisfied with the products and services provided by these individual stores. Hence, they choose them over any other store that sells similar products. It is the same scenario with websites and mobile applications. A UX design that is attractive, less complex, information well-organized, icons with proper labels etc., promotes an increase in customer retention.
More intuitive design: Let's ask a question here. Do you read a complete user manual that comes with the products you use on the daily basis or even online? Certainly not. We have this tendency to play around with a tool or a product to explore how it works, what features it has, how helpful it will be for us, and what can be done with it. So, any more intuitive UX design that has proper instructions given at different stages and levels, would save a lot of time from having calls/messages with customer care.
These are some of the benefits that UX design can provide in the upliftment of a product, services, and even a system.
Non-Tech Industries that need UX
Now that we have understood what is UX design, why we need it and what perks it brings along, let us focus on some non-tech industries that can witness a huge difference with the presence of UX design.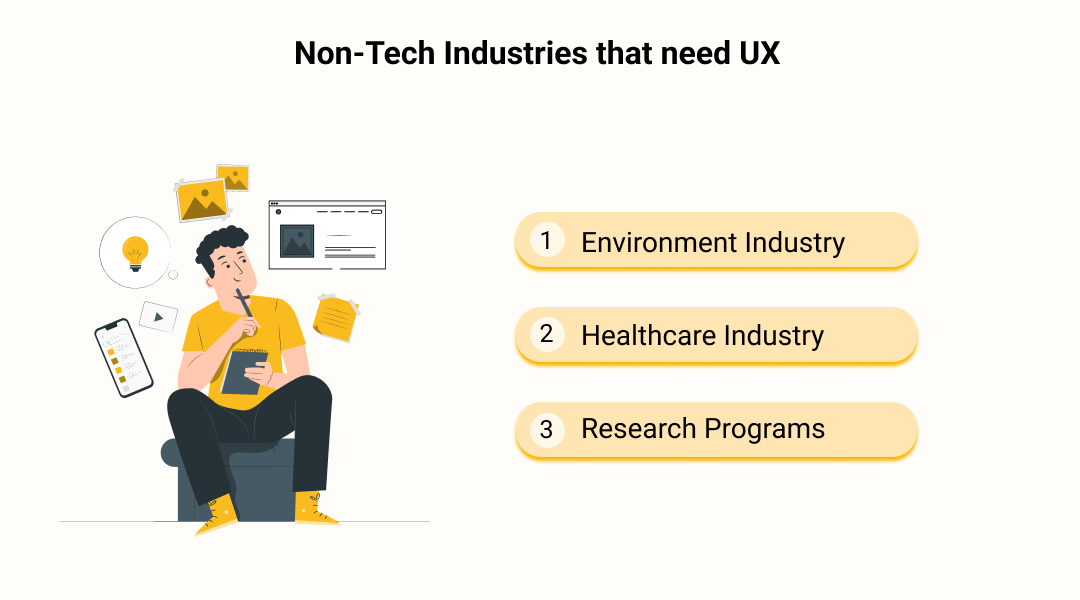 Environment Industry: Discussions about global warming, natural disasters and other tragedies that environmental imbalance comes with are not new. We have been discussing climate change and how adversely it is affecting mother earth for quite some time now. Yet when it comes to surveying how mindful and aware people are about this crisis, the results are very poor. Despite the scarcity of natural resources that we are facing due to lack of water in some areas, extreme rises in temperatures in summers and vice-versa in winters, people are still ignorant.
By having UX design done around awareness about environmental issues, and our contribution to saving them, designers can impact a large audience, as the design is the first thing that we generally notice in any application. Choosing colours that symbolize environmental safety, and adding elements in the design that indicate the importance of nature can create more awareness in people. If designers take small steps like having a hint of environment-friendly design even for tech industries, it could result in a remarkable change in people's attitude towards environmental issues.
Healthcare Industry: At Fibonalabs, we have worked with clients from the healthcare industry. And so, we could see that UX design is getting into this field rapidly. But if we want to pinpoint a few areas which need more attention in healthcare, it would be dealing with patients that have disabilities and those who are below the poverty line. UX design that focuses on simple things like scheduling an appointment with a doctor, online video consultation, placing pharmacy orders online, and special attention to minority patients and handicapped patients, surely, we would be witnessing a more streamlined workflow in the healthcare industry.
Research Programs: Often it is observed that educational institutes have little or no proper UX design on their websites. Universities that offer research programs are often unaware of the importance of UX design and how negative impact it leaves when it comes to browsing a university website. Hence it is one of those non-tech industries that need proper UX designing to create interest in the youth, students who are looking forward to getting enrolled in their research program. It will certainly attract a greater number of researchers, because let's be realistic, with such easy access to social media, e-commerce websites and other online platforms these days, people are becoming aware of what is user experience design and its importance.
Apart from these, we need UX for non-tech related industries like political campaigns, sports, fitness, law firms, etc., that can make the most out of UX design.
Conclusion
It is always better to work smart than work hard. So, even if you have put a word about your business, start-up, or entrepreneurship to your friends, friends of friends, or former colleagues, nothing can match your presence on the internet. And with cutthroat competition around your presence should be impactful. With a good, well-thought, well-discussed UX design, you can achieve it, whether you belong to a tech or non-tech industry.
As quoted well by Tim Ferriss, "Focus on being productive instead of busy". We at Fibonalabs completely believe in this. Our end goal is to be productive and not just be busy filling our timesheets. Our team of experienced and excellent designers, ensures to stay well equipped with the latest skills and come up with ideas that have not only benefitted so many of our clients but have changed the UX design game for our company as well. So, what are you waiting for? Visit us at www.fibonalabs.com and avail the best of our services.