How cloud computing can enhance the future of Fintech Industry?
With technology innovation in fintech space, it is expected that fintech startups may claim revenue of $4.7 trillion in annual revenue and $470 billion from old-renowned financial companies. If you are one among them and are thinking about "going with the trend" of using cloud computing and improving your fintech services, then you are in right direction to make a decision. Cloud computing is a new era of technology and about 32% of the IT budget is dedicated to this purpose. But the question is how this will drive fintech in the future.
After Covid19 pandemic, the growth in yearly cloud market size has been significant in 2020. Fintech is definitely reaping the benefits of cloud services which is reflected in the increment of its compound annual growth rate that is 23.84%. This is because most of the sector including the financial sector has adopted a work from home policy and managing data on cloud technology becomes easier for the business.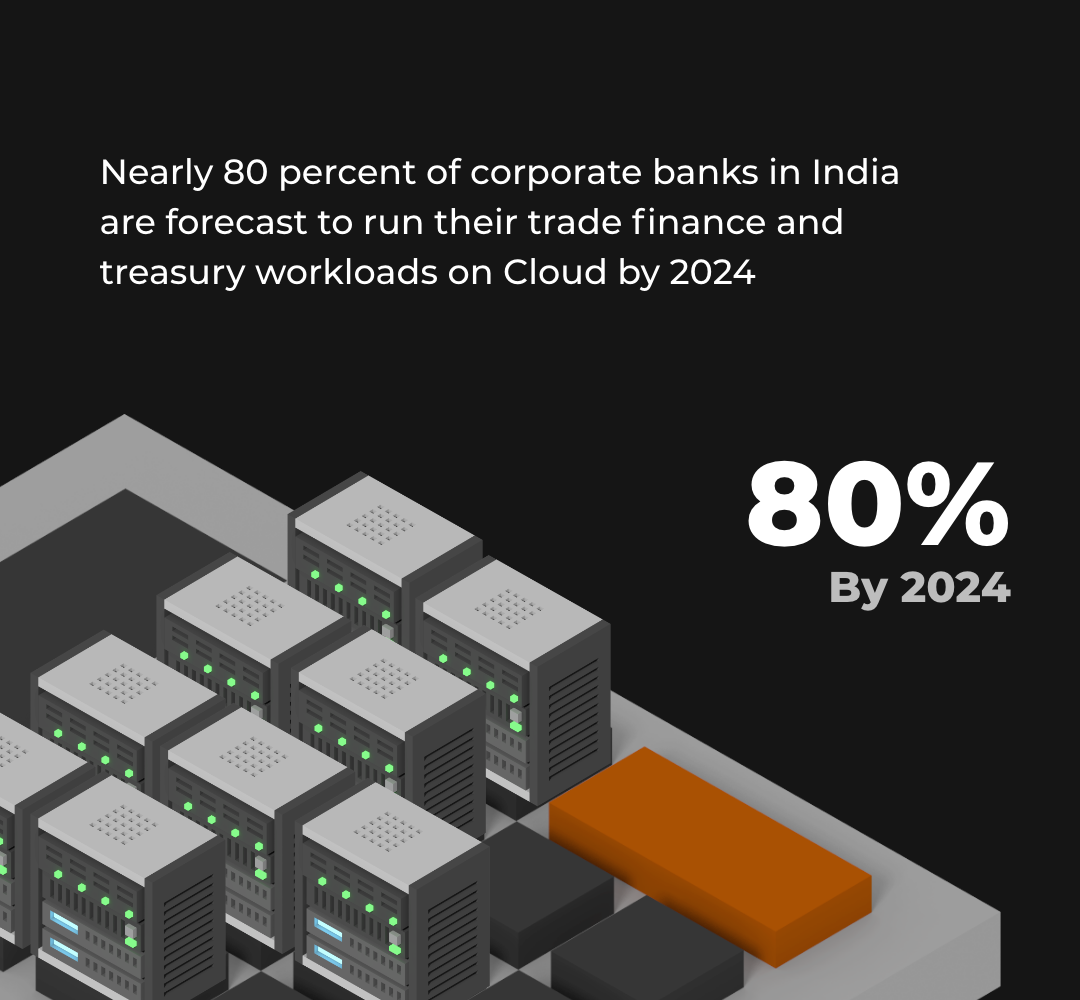 According to the IDC reports, "Nearly 80 percent of corporate banks in India have been forecasted to run their trade finance and treasury workloads on Cloud by 2024".
What are the driving forces that compelled the fintech industry to move to the cloud?  Let's discuss this in the below section.
1. Self-service technology: To Give Nudge to Fintech Services
After the pandemic started, everyone started working remotely and this raised the demand for self-service applications. This created an urge to open and manage finances digitally for both individuals and businesses. Using self-service applications, it becomes easier to handle these processes at a rapid pace. Cloud technology enables fintech firms to manage their applications remotely by their internal staff.
2. Agility and versatility: To Market Fintech Products
Innovative product offerings in Fintech industry are mainly due to the agility and versatility of cloud technology. Due to this agility, financial businesses can market their products faster. The startups and enterprises catering to various fintech products and services related to banking, insurance, loans, personal finance, E-payment, wealth management, etc can easily adapt to the new market trends and demands to satisfy their customers with the help of the cloud computing. This will have the most significant impact on boosting the fintech businesses.
3. Improved Business efficiency and flexibility Through Cloud computing
Due to the advantages of scalability, interoperability, flexibility, 24/7 uptime without heavy investments, business efficiency is incremented. It makes scaling the business to higher user demand easy without the need for hiring, training, or retraining employees, thereby reducing operational costs. As data services and infrastructure are offered by cloud computing firms, fintech companies can entirely focus on the mission of the company. This makes your company more competitive and efficient. Thus, your customers will have a wonderful experience with your company as they get faster and more effective financial services.
4. Secure data management with Cloud Technology
For fintech, the foremost concern before installing any new technology in the system is data security. With zero-trust verification and encrypted data, using cloud computing services will be entirely secure. Working with a huge amount of data including account management, identity verification, balance, checking, maintaining, and upgrading IT infrastructure is now easily tackled with cloud technology. Thus, Fintech companies can now store and manage user data in a more trusted and secure way.
5. Customer satisfaction: With the Integration of Cloud-Based Security Tools
For every business, customer satisfaction plays a key role. Security issues in Fintech like fraud detection, banking services, and task credits can be handled smoothly using cloud-based security tools. Since technical matters are managed by cloud companies, financial companies can focus on customer satisfaction. This enhances your customer experience as they get much better overall services.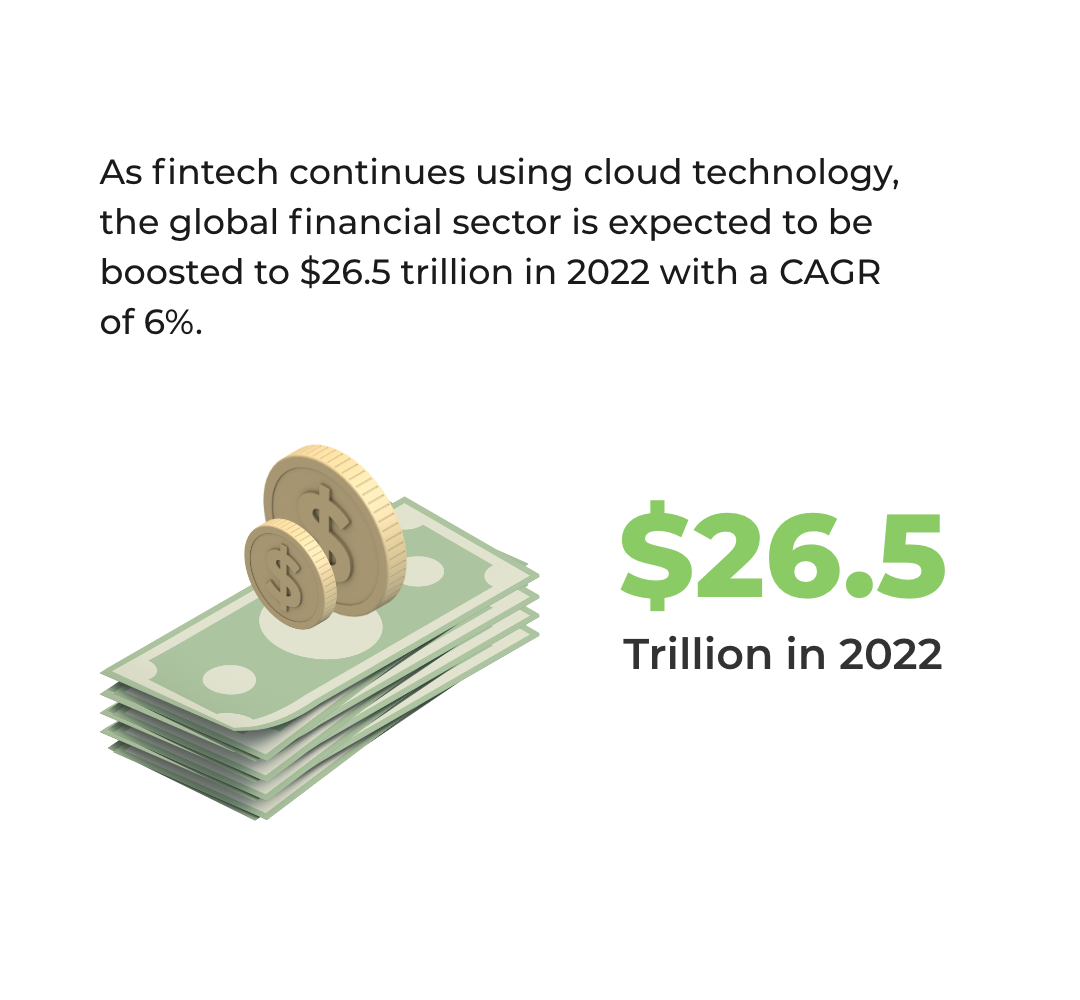 Points to ask your Cloud service provider before migration
●    Compliance- Ask your service providers to demonstrate compliance certificates of the cloud service.
●    Access control and data encryption- To protect the financial data that you wish to transmit, look at the encryption policies and procedures and then choose the technically feasible ones.
●    Disaster recovery plan- Ask for the detailed disaster recovery plan that supports your digital infrastructure.
●    Data segregation and management- As a financial institution, you need sharing resources with high security reached by data segregation.
The cloud based fintech product can lead to improved productivity, easy financial processes, easy wealth management system and secured environment for you and your customers.
In the nutshell
In this remote-working world, adoption of cloud services is expected to increase. Though we understand that you find it riskier to incorporate new financial technology, proactive executives can find many ways to turn this risk into creating value for your customers.
Not only the Fintech industry but other industries are driving their success with the help of cloud technology.
According to a report, Netflix shared that its 117.58 million subscribers around the world watch 140 million hours of content daily. There has to be some driving force behind cloud migration technology that made it successful.
Think about it and share your views!
We are here to innovate your business and improve your customer experience with our cloud computing services. Visit us and connect with us to explore our services.
Stay tuned for the next interesting article.