What Goes Into Creating A Unique Brand Identity
The identity of a brand is 99.9 % time confused with its logo. Not that logo has nothing to do with it. But let's take an example of the world's most famous and most talked about brands like 'Apple'. Where did it get its logo from? There are several stories behind it, where some say it is a tribute to Alan Turing who died after biting an apple that was laced with cyanide. The other one says that it represents a biblical story of Adam and Eve. But as a brand apple is, what makes it unique? Is it just the logo? I am afraid the answer is no. It is the brand identity, which is a perfect amalgamation of the quality of products, trust, and values that it delivers to its customers. So, what is brand identity? Read further to get the answer to this question.
"If people believe they share the values with a company, they will stay loyal to the brand." - Howard Schultz (former CEO of Starbucks)
Importance of Having a Brand Identity
One of the most crucial aspects for any brand is to instill a sense of loyalty in its customers and that's why creating a unique brand identity is very important. Brand identity encapsulates almost everything that a brand does and is based upon. Let's learn why it is important.
Gives Identity to your Business: Your brand's logo is the face of your business and if designed keeping in consideration the customer values it is going to deliver, the logo can do magic. Because as mentioned above, look and feel can do it all alone.
Consistency and Trust: Brand identity is the soul of your brand. As a brand, having a good launch is never enough, rather maintaining an established face is a tricky task. If a brand can do so, it comes across as an authoritative and trustworthy brand.
Mindful Advertising: Advertising of a brand is done based on the message it wants to deliver to its customers to increase its revenue. And is it possible without brand identity? No, it is not. Whether you advertise your brand via social media, print media, or commercial media, having a renowned brand ambassador adds to its popularity. It is of utmost importance to collaborate with a personality that is endorsing your brand's basic concept in its way already. For example, if you are a plant-selling brand, bring on board a celebrity who has been involved in "saving environment" campaigns for a long time.
Defines Your Organization's Mission: Brand identity plays an exemplary role in defining the mission of your company. So, just an impacting tagline is not enough. You must create and support awareness camps that are closely coupled with your brand. For example, a skincare brand that claims to make products using organic ingredients should first start supporting organic vegetation, an organic way of life, and so on, to define the mission of the company.
Things To Focus On While Creating A Brand Identity
Build a product that is real and not imitated in any form. Having said that it doesn't mean if you are selling cups change their shapes to glass. Rather it implies for you stick to the unique idea that your brand claims to have and it must be visible in your products and services.
Making an impression is another very impressive quality of a product. Any product that looks majestic garners a lot of attention. When topped up with an inspiring, motivating idea, it further adds to enhancing a brand's identity.
Try to come up with a brand identity that resonates with a larger audience. For example, a famous activewear brand has come up with athleisure for women of all sizes, ranging from S to 4XL.
Visuals are again very impactful in creating brand identity. Using designs and colors that depict energy, liveliness, and positivity attracts a huge range of consumers.
Recycling products is also a unique factor that contributes to a brand's identity.
Design Aspects With An Important Role in Building Brand Identity
Brand identity has a lot to do with the way its logo, website, business cards, etc. are designed. We can divide it into two parts:
Designing the base
Designing the brand identity
Designing the Base
To begin with, you must first finalize the basic structure of the design such as typography, colors, shapes, and so on.
Typography: Font is the first thing that we notice in a brand because the first thing we want is to know the name of the brand. This is where typography comes into the picture. There are different types of fonts like Serif fonts, Display fonts, and Script typography. The font which resonates the most with the idea of your brand needs to be chosen wisely and after giving it full thought.
Colors: You can choose from a variety of color palettes and dedicate a color to your brand which can make it unique, and easily identifiable. For example, Coca-Cola is such a big brand and it has only two colors i.e. red and white in its logo. But these colors are unique to the brand. Similarly, Christian Louboutin, the famous brand for high-heeled women's footwear uses red-colored soles which is the identity of the brand.
Shapes: Another important element for setting the base of any brand is the use of shapes. For example, using a soft-edged shape over a fine-edged shape will infer completely different meanings of what a brand wants to deliver.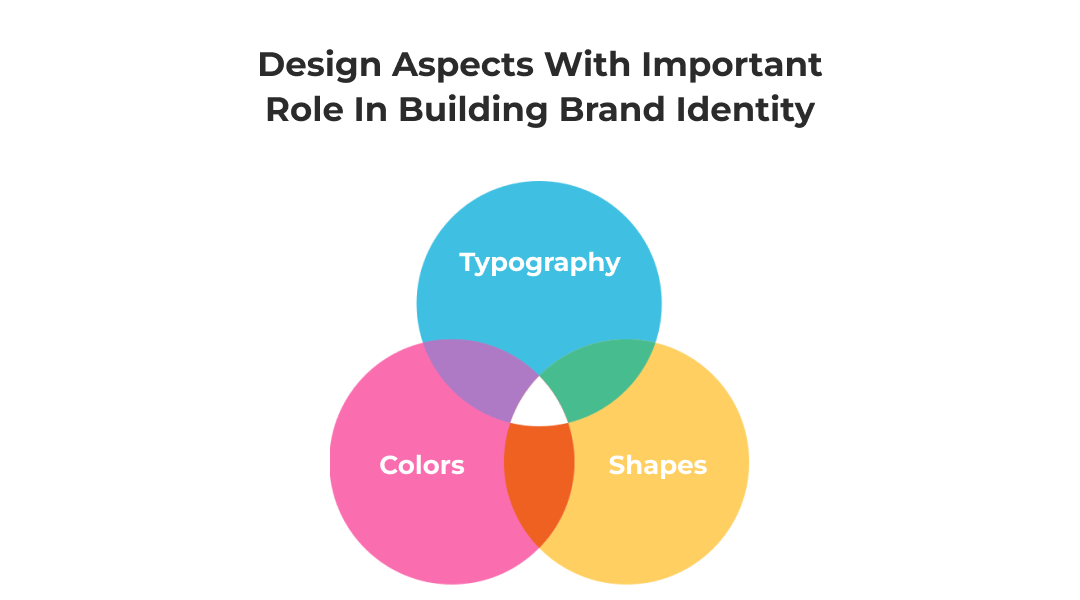 Designing the Brand identity
Once the foundation of the design is set, it's time to bring all the pieces together and design your brand's identity. This includes everything namely, logo, website, packaging, social media designs, and business cards to name some.
Let's take an example of a food ordering app and a bespoke stitching company. Both of them will have different ideas and elements to contribute to their respective brand identities. Where the food ordering app will focus more on working on the menus of restaurants, the bespoke stitching brand would be dedicated to showing the pictorial side of their work such as pictures of dresses stitched and so on.
There is so much more that can be discussed on these lines but the focus should always rely on depicting a brand's true self and not some fabricated identity.
Conclusion
I hope by now I have answered what is brand identity. It is not just one entity but it is a collection of so many aspects that matter a lot in the success/failure of a brand. Having a proper brand strategy and building a brand's identity around it should be the focus of all companies.