Cyber Security: Most Important Aspect of a Successful Business
Being a business owner, there are lots of concerns that people have, cyber security is the top among them all. In this era of the so-called digital age, everything is done online now. And as it is said, "with great power comes great responsibility", the power of the internet is shouldered by cyber security.
Cyber Security in business is all about protecting the data, not just the online data but also the offline data, from theft and any sort of damage. It includes the security of personal data, intellectual property data, protected information, sensitive data, government data as well as the data of various industries. It is a shield that helps in safeguarding the entire data of a business. Running a business is not everyone's cup of tea and what makes it further difficult is the absence of cyber security. Let's learn what impact this service has on the running of a successful business.
CYBER SECURITY: IMPORTANCE
There is a plethora of information available on the internet that backs up the cyber-attacks done on several organizations. In fact, as per OTA (Online Trust Alliance), almost every company has undergone a cyber-attack in one way or the other. The bigger the organization, the more vulnerable it is to such attacks.
Let's have a look at some of the benefits of cyber security in business.
Freedom To Surf: It allows you to freely surf over the internet without being at risk all the time. You can easily do your research and go to different websites without any worry about data comprise.
Safeguards Personal Information: It protects your personal information that is there, on say some online shopping portal, employee's data of an organization, etc.
Increased Productivity: An attack from a malicious file or a virus can clearly slow down your system's speed and efficiency. Cyber security makes sure to stop any such attack right at the first step.
Maintains Your Websites' Rank: Once your system/website is infected, it is likely to shut down thus causing a huge fall in its rank. With cyber security in business, you can rest assured that the virus can never be the reason behind any fluctuation in your website's rank.
Protects From Spyware: Spyware, a software that gets installed in your system without asking for any permission. It is meant to keep track of your online activities and share all the information with the cyber attacker. By having good cyber security, you can ensure that spyware never enters your system.
CYBER SECURITY: THREAT ANALYSIS
There is a lot that can be written about threat analysis. But here we will discuss the process of threat analysis. Given below are the factors that help in analyzing the vulnerabilities that lead to any cyber-attack.
Analysis of Data Worth Saving: The very first step of threat analysis is to detect what needs to be protected and what not. It includes information that is sensitive, susceptible, and confidential.
Details of Previous Attacks: Collecting the data from previous cyber-attacks helps in identifying the entry ports, vulnerable areas, and areas that demand high-end security. It could be the network, server, endpoints, etc. Doing this, we can stay focused on the pin point of cyber security in business.
Analysis of Vulnerability and Risks: This helps an analyst determine how to neutralize the attack by ensuring that the security measures, policies, and other adequate measures pose no threat to confidentiality, integrity, and availability of data.
Finalizing the Mitigation Measures: After analyzing the above aspects of cyber threats, an analyst categorizes these threats into different data groups. Then he identifies their pattern and finally acts on implementing the mitigation measures.
CYBER ATTACK: FAMOUS EXAMPLES
Cyber security in business is of utmost importance. Some of the global cyber-attacks that proved extremely worrisome for businesses across the globe are listed below.
Atlanta cyber-attack, 2018: This was a massive ransomware attack that shook the government of Atlanta, USA. The attack was noticed in early March when the government system was hacked. Being the major transportation and economic hub of the USA, Atlanta faced a crisis for quite a few days. Travelers couldn't use the airport's Wi-Fi, traffic ticket forms were filled manually, and a lot of chaos was created for the citizens.
Luas cyber-attack, 2019: This was another ransomware attack that affected Luas, a tram management system in Dublin, Ireland. The hacker demanded a ransom of 1 bitcoin whose value at that point in time was € 3,385.
Health Service Executive cyber-attack, 2021: Since the attacks are done on famous and larger organizations are mostly ransom war attacks, so was this one. May 14, 2021, this attack caused all the IT systems across Ireland to be shut down because of its severity. This was a Conti ransomware attack, which came into the picture in 2020. It is known that it has more or less affected all the versions of Microsoft.
Colonial Pipeline cyber-attack, 2021: This attack targeted the American oil pipeline system in Houston, Texas. It hacked the computer-managed system of the pipeline. This ransomware attack got successful as the hackers got paid $4.4 million by the government, though $2.3 million of the amount got recovered.
Steamship Authority cyber-attack, 2021: In June 2021, a ransomware attack on the Steamship Authority of a ferry service in Massachusetts, USA, caused a halt in the service. It attacked their system by affecting their logistics and made the system inoperable.
CYBER ATTACK: PREVENTIVE MEASURES
Preventing cyber-attacks is not an impossible task if all the measures are followed religiously to ensure cyber security in business. But in the past few years, it has become the most difficult task because of the rise in remote work and hybrid working models. Availing the best cloud technologies is the best way of dealing with such issues. Also, given the fact that the attackers are getting experts in new technologies, it should be the priority of every kind of business to invest in the latest cyber security solutions. Discussed below are some of the latest cyber-attack preventive measures that could be extremely helpful in the coming years.
Safeguarding from On-demand information access
Issue: With everything getting digitalized, today organizations have data of millions of users, like their social media clicks, banking information, shipping information and so much more. This makes them more vulnerable to cyber-attacks. As discussed in the above examples, such huge classified information is an invitation to ransomware attacks.
Solution: Trending technologies like zero trust architecture, behavioral analytics, and elastic log monitoring are extensively important in shielding organizations from cyber-attacks.
Zero Trust Capabilities: As more and more employees are working from home currently; it is essential to shift the security more towards users and physical networks rather than focusing on centralized data.
Behavioral analytics: Since this trend of attacking an employee's system has been witnessed worldwide, analyzing their activities is very helpful. Such as their login time, the websites they are accessing for work, sites where they are spending more time, their log-out timings, etc.
Elastic monitoring of data: Monitoring small data is still easier than taking keeping track of bulk data. With elastic monitoring, organizations are able to extract the desired information and analyze it in terms of security.
Using the latest AI solutions
Issue: Advancements in technologies like Artificial Intelligence and Machine Learning, have given attackers new and advanced tools to launch cyber-attacks. Such attacks can be controlled by having an automated response or a predefined defense system at the first step itself.
Solution: Organizations should stay ahead of the attackers by adapting to more advanced AI solutions. There should be operational and technical changes in the traditional security software. Apart from the above-discussed measures, businesses and organizations should continue to follow the generic cyber security norms like staff training against identifying cyberattacks, keeping the systems up to date with the latest updates, ensuring endpoint encryption, and the list continues.
CYBER SECURITY IN BUSINESS: HOW DO WE ENSURE IT AT FIBONALABS?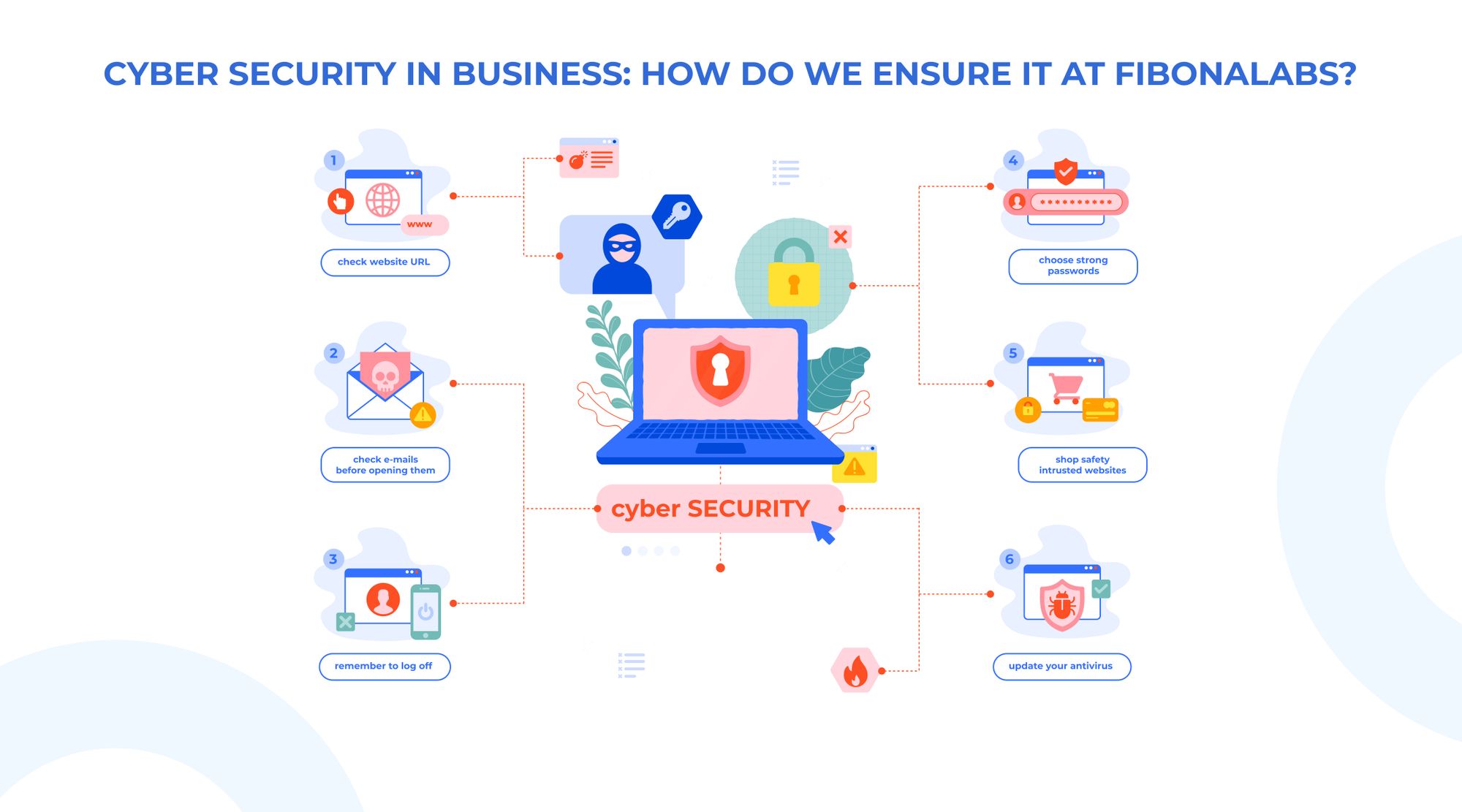 Preventing cyber-attacks is not an impossible task if all the measures are followed religiously. Discussed below are some important steps that are followed at Fibonalabs.
1. Staff Training: This is the first and the most effective measure for any organization. Training your staff in recognizing the red flags of cyber-attacks is very important. Cybercriminals find it easy to attack an organization's system through an employee's account. Therefore, it is advised not to open links from unidentified sources, verify unknown email addresses, ensure safety before sending classified information via mail, and so on.
2. Latest System Update: It is highly recommended to keep your systems up to date with the latest updates available. A non-updated system is more vulnerable to attacks as the cybercriminals are well aware of the loopholes.
3. Endpoint Protection: All the endpoint devices such as laptops, tablets, mobile devices, and desktops, should be fully protected by some endpoint protection software. There should be a proper analysis of the activities done on these systems through agent deployment.
4. Firewall Installation: A firewall is the first or the outermost shield of a network. It stops the attack at the very first step. Hence, it is of utmost importance to have a firewall installed to safeguard the network.
5. Data Backup: Whether you run an organization or you are a normal employee, data backup is recommended in both scenarios. Cyber-attacks are not restricted to just ransomware, there are viruses, malware, spyware, and several other types of attacks that could damage your data. So, taking backup is extremely helpful and with cloud management, even this process becomes easy.
6. Controlled Access: The easiest way to attack a system is to physically inject it with a virus. This can be done using a USB like pen drive, external hard disk, external Bluetooth device, etc. There has to be a barrier in the network that doesn't allow these devices to get access to your system.
7. Secured Wi-Fi: In this digital age, having Wi-Fi is the most normal thing. Now gaining Wi-Fi access is another entry port for cybercriminals to execute an attack. Thus, you must always ensure the secure your Wi-Fi networks as it connects your entire business system.
Discussed above are not all but some of the important measures that are taken at Fibonalabs to establish cyber security in business and prevent any cyber-attack. The team here believes in the famous motto "precaution is better than cure".